COST: $1.99
CATEGORIES: Education, Entertainment, iPad, Native, Music
..RELEASED: 6/25/10, VERSION: 1.0 -- RATING: N/A Stars..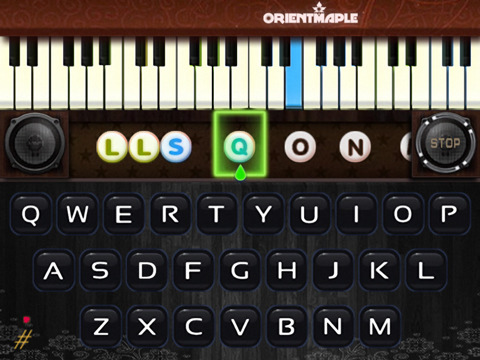 Developer Snapshot: "You just tap the correct letter in the virtual keyboard to match the note displayed on the screen, then you will enjoy a beautiful song."
Playing the piano or keyboard as effortlessly as you see musicians do, has always been a dream of mine. I did take lessons and learned the basics, but never continued as I should. There are some of us who have never learned the music notes and would love to play a piece on the piano. Now you have your chance with Amazing Piano HD. Simply tap the correct letter in the virtual keyboard to match the note displayed on the screen and then be amazed at the music you create. Some of the key features of Amazing Piano HD are as follows:

16-bit high-quality sounds
Hint function guiding you how to play piano
Autoplay function
Realistic actions when you need
Judge whether you tap the keys right or not
Colorful letter hint
Full-featured playback
Keep the recordings all in one list
Play personal record
Friendly operator interface
Real-time and play, no delay
3 levels of music speed
2 modes: Free and Practice
Keyboard piano style
Super rapid loading speed
Effects volume function
Right-hand or left-hand preferring set

There is a nice assortment of songs provided for you in this app. Note that every song is divided into 3 speed levels, slow, middle and fast. Therefore, there are 45 singles you can play. Enjoy these popular songs:

A Time for Us
Corydon
Cherry Blossom
Edelweiss
Fairy Tale Love
Happy Birthday
Jingle Bells
Katjusha
Kiss the Rain
Song of Joy
Song of Harvest
Song of Matador
The Marriage of Figaro
Twinkle Little Star
Wedding March

Additionally, your prowess is tested as notes are played on a music staff. Just tap the correct letter in the virtual keyboard to match the note displayed on the screen. It's all that simple and fun. If you use the practice mode in Amazing Piano HD, you can judge whether you tap the keys right or not through changes of the water globule in the middle of the screen. This is definitely a very enjoyable app for music lovers of all ages. Amaze everyone with your keyboard skills when you use Amazing Piano HD.
--OS and Age Rating: This app requires OS 3.2 or later. Rated 4+.
--Tip/Tutorials: The Lite version of this app is also available for free on the App Store. Also, When you are in the game interface, tap the area of piano keys to return to the main menu.
--Device: iPad
--Languages: English
--Developer Link: OrientMaple
--Twitter Link: N/A
--Facebook Link: N/A


Visit the iTunes App Store for more details, and to download:

AMAZING PIANO HD

NOTE:

*Visit Cool iPhone, iPad Apps often to check for the latest FREE CODES.

------------------------

Fun Stuff - Word of The Day: spintronics - A technology that exploits the magnetic properties in layers of materials only a few atoms thick, taking advantage of an electron's spin as well as its charge. Technically, spintronics involves quantum effects of electrons. This technology may enable you to turn your computer on and have it immediately booted up and ready to go (employing "instant-on" memory). See the MRAM explanation under the RAM definition.