COST: Free
CATEGORIES: Entertainment, Games, Music, Native
..RELEASED: 6/9/10, VERSION: 1.0 -- RATING: 3 Stars..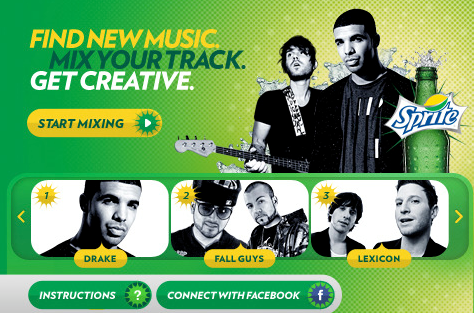 Developer Snapshot: "Featuring over 300 authentic samples, from 12 up-and-coming artists, the Sprite Spark Music Mixer lets you play your way through 11 unique mixing sessions to create your own tracks."
Music lovers and DJ's have a passion for listening to, making and mixing good music. Sprite Sparks Music Mixer Game lets your musical talent flow to create new music with tracks from up-and-coming artists. With the awesome rhythm and style included, create unique tracks and share them with friends. See how famous you just might become! Listen to cool tracks from the following artists from which to make your blends, although many more are included:

Drake
Mo Greene
Casteneda
Fall Guys
James Kinney
Lexicon
Minutes Til Midnight
Radio Freq

An awesome feature is having the Spark Music Mixer adjust the tempo and genre of your creations. Focus on what you like, and the mix will build around your blend and mix choices. Remember, don't delay though because you must beat the clock. This is a fun, unusual and creative musical game for the family to enjoy. Get your creative juices flowing with Sprite Sparks Music Mixer Game.
--OS and Age Rating: This app requires OS 3.0 or later. Rated 4+.
--Tip/Tutorials: Go to spriteurl.com/sparkmusic and click on YOUR SPARK STUDIO to see points earned towards Spark Records and tracks you've created. App is best experienced with headphones and optimized for 3GS.
--Device: iPhone, iPod Touch, iPad
--Languages: English
--Developer Link: The Coca Cola Company
--Twitter Link: N/A
--Facebook Link: N/A


Visit the iTunes App Store for more details, and to download:

SPRITE SPARKS MUSIC MIXER GAME

NOTE:

*Visit Cool iPhone, iPad Apps often to check for the latest FREE CODES.

------------------------

Fun Stuff - Word of The Day: link juice - Jargon that refers to the quality of a Web site's link power, as in page rank, number of link votes, etc. - that are obtained from backlinks. This expression was coined by SEO consultant Greg Boser, for example "I need to get some more link juice for my latest site."