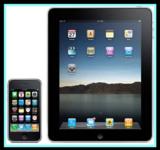 Got a few minutes? Catch up on the current
Tech News
. Also, see
Breaking iPhone News
on the home page in the right sidebar. If you're looking for more great apps to fill up your phone, check out the Free App of the Day below.
News posted 7/17/10

~Special Highlight~
What will Apple and Steve Jobs do for you regarding the unfortunate Antennagate? Find out in the following video taped live yesterday, and enjoy the intro YouTube iPhone song before Jobs speaks. Make no mistake - Apple intends to take care of every customer to keep all users happy.

Apple Press Conference 7/16/10-Resolving AntennaGate!
Visit freeAppCalendar
for entertaining and free, daily apps to make your day guaranteed fun!
Free App of the Day
~ 2012 Elements USA





Entertainment/Games/Arcade - 7/17/10
------------------------