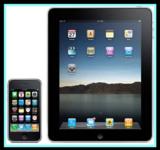 Got a few minutes? Catch up on the current
Tech News
. Also, see
Breaking iPhone News
on the home page in the right sidebar. If you're looking for more great apps to fill up your phone, check out the Free App of the Day below.
News posted 8/13/10
Related Articles By Zemanta:
* Protect Your iPhone 4 With Cold Steel Body Armor
(iphonesavior.com)
* Carmack blows minds with id Software's Rage, running on iPhone at 60fps with 'megatextured' graphics (video
) (engadget.com)
* Get Ultimate iPhone 4 Protection With OtterBox Defender [Review]
(cultofmac.com)
* Quakecon 2010: Anger management goes mobile; id shows off Rage for iPhone
(news.bigdownload.com)
* O2 offers iPhone 4 on pay-as-you-go
(v3.co.uk)
* Can I Print from my iPhone?
(brighthub.com)
Visit freeAppCalendar
for entertaining and free, daily apps!
Free App of the Day
~ X Invasion2
(Games/Action - 8/13/10)



* NOTE: Visit Cool iPhone, iPad and iPod Touch Apps often to check for the latest FREE PROMO CODES (top red button-right sidebar).