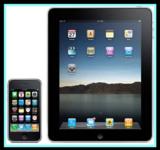 Got a few minutes? Catch up on the current Tech &
iPhone News.
Also, see Breaking
iPhone News
on the home page in the right sidebar.
Fun Stuff - Word of The Day:
satellite connection - An Internet connection for sending and receiving information via a satellite dish. It is an always-on connection that is not dependent on cable or phone lines for communications.
* NOTE: Visit Cool iPhone, iPad and iPod Touch Apps often to check for the latest FREE PROMO CODES (top red button-right sidebar).
Cool iPhone, iPad and iPod Touch Apps
is updated often. Subscribe by selecting either:
E-mail
or
RSS Reader, and
follow us on

Twitter and

Facebook.
Developers and Advertisers-please contact us to post your app reviews, press releases, contest news, graphics and more at:
cooliphoneapps1@gmail.com