Developer Quote: "For the price of a single paper card, you can send unlimited, personalized birthday, special occasion, or "just for fun" greetings to friends, family, and loved ones."
- COST: Free - RATING: 4 Stars
(Cost/Rating subject to change per the App Store)
- Categories: Cards, Communications, Entertainment, Food, Lifestyle, Native, Recorder, Sentiments, Social Networking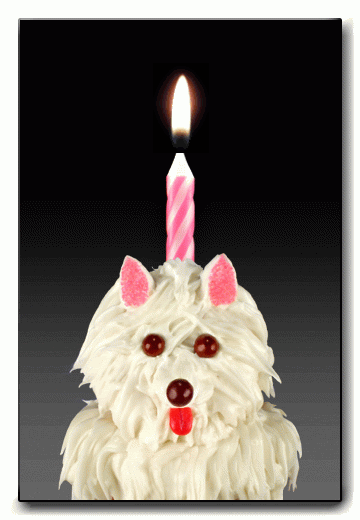 This is a new year, and one of your resolutions is to remember and promptly send your family and friends birthday wishes on the day of their birthday...Not 1 week or 1 month after the big day! Trouble is you work 60 hours a week so you don't have time to make a special trip to the store to get a card, plus stop at the post office to stamp and mail it. Well, you can accomplish your new year's resolution with a minimum of fuss! Simply use the incredibly beautiful, sweet greetings on iKandl to instantly send your spoken best wishes to those you care about! Yes, I said spoken because iKandl has a voice recorder where you can record and send whatever you want (naughty or nice) with your chosen graphic! The cupcake images are absolutely dazzling and mouth-watering. No-one will be able to resist your choice of card. When the lucky recipient gets hold of your cupcake greeting, they can then make a wish and blow-out the flickering candle! Life doesn't get sweeter!

iKandl is a two-part app. The initial app that you download from the App Store for free is the iKandl Player. The Player allows you to select cupcakes and prepare greetings then pass or show it to the recipient. Additionally, you may play with the animated candle flame by blowing on the mic, moving the device, or touching the screen. With the iKandl Messenger upgrade, when you open the app you will see a cupcake with a lighted candle. Underneath are 4 buttons (however, with the iKandl Player alone, you will see 2 buttons). The 4 options are: Cupcake-choose from a gorgeous selection of 2 dozen confections, Microphone-speak your greeting, Envelope-Mail your greeting and Calendar-See a list of friends' birthdays from your Facebook account and device Contacts list. Underneath this, find a detailed help menu denoted by the "i", while the "+" allows you to hide your menu so you can enjoy your cupcake in all its iced splendor! Now, to begin the magnificent creation!

It's so simple and easy to put your greeting together. Honestly, the hardest part will be to choose which high-res cupcake to send. There are too many yummy ones included! After your selection, record your message and then show or mail it! The recipient receives your delectable cupcake greeting on his/her iDevice and may play it immediately if having an iKandl greeting card app. If not, simply download to enjoy the sweet sentiments. Please note that the second part of iKandl is the iKandl Messenger. If you choose to e-mail your greeting, you will need to purchase the Messenger in-app for $2.99. Your native e-mail app will appear with your prepared iKandl greeting when you tap Send, and will be sent on its way.

So let's see now...you are being green by not using a paper card, saving money by not having to buy one, and pleasing the recipient of your gorgeous and timely ecard! This is simply a win-win situation. You shouldn't save iKandl just for birthdays either! It's meant to be used for all events - think "all-occasion" greeting cards! Blowing out the candle is the topping on the cake as it is so cool when you hear the fizzling out of the candle and the cheering afterwards.

COOL CONCLUSION: "Who could possibly resist the brilliantly-colored, sweet treats of iKandl sent their way with a personalized greeting and glowing candle to top it off?"
--Date/Version: Updated 1/4/11 - Version 1.3.0
--iOS/Age Rating: This app requires iOS 3.0 or later. Rated 4+.
--Tip/Tutorials: Top In App Purchases: 1 iKandl Messenger for $2.99
--Device: iPhone, iPod Touch, iPad
--Languages: English, French, Japanese, Spanish
--Developer Link: Brothers Technology LLC
--Twitter Link: @ikandl
--Facebook Link: N/A


Visit the iTunes App Store for more details, and to download:
IKANDL
Cool iPhone, iPad and iPod Touch Apps
is updated often. Subscribe by selecting either:
E-mail
or
RSS Reader,
and follow us on
Twitter
and
Facebook.
App Lovers-find promos on our page:
PROMO CODES.
Developers and Advertisers-please contact us to post your app reviews, press releases, contest news, graphics and more at:
cooliphoneapps1@gmail.com

Disclaimer: You have enjoyed an impartial, paid post.