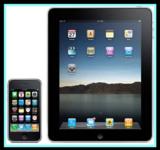 Got a few minutes? Catch up on the current iPhone, iPad Tech & Net News. Also, see Breaking iPhone News on the home page in the right sidebar.
- Hard Candy Street Skin For iPhone 4...
- iSource "Best Of" Picks of the Week...
- Is Apple Censoring MobileMe mails?
- Airfoil 4.5 Allows Streaming...
- How To Make Sure You're Charging...
- HDMI Group Reportedly Putting a Stop...
- iTV Player Apps Launch Bring Steaming TV Shows