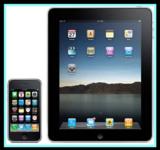 Got a few minutes? Catch up on the current Tech &
iPhone News.
Also, see Breaking iPhone News on the home page in the right sidebar.
Lingo of the Day:
VMRL - An open, extensible, industry-standard scene description language for 3-D scenes on the Internet. With VRML and certain software tools, you can create and view distributed, interactive 3-D worlds that are rich with text, images, animation, sound, music, and even video. The goal of VRML is to create the infrastructure and conventions of cyberspace, a multi-user space of many virtual worlds on the Net.
Cool iPhone, iPad and iPod Touch Apps
is updated often. Subscribe by selecting either:
E-mail
or
RSS Reader,
and follow us on
Twitter
and
Facebook.
App Lovers-find promos on our page:
PROMO CODES.
Developers and Advertisers-please contact us to post your app reviews, press releases, contest news, graphics and more at:
cooliphoneapps1@gmail.com