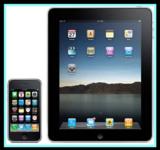 Free PROMO codes available, courtesy of awesome developers who want you to share the fun! Click title link of Promo for App Store Description.

-E-mail us with your request at: cooliphoneapps1@gmail.com

- HomeScreen Hero-Wallpapers, Icon Shelves & Lock Screen Designer - 10/8/11
For iPhone, iPod Touch and iPad

-
Wallpaper categories contain 100's of original artworks to customize your device with endless possibilities. Transform your iPhone and iPod Touch like never before!
- Grey's Anatomy Stick Figure Trivia - 10/3/11
For iPhone, iPod Touch and iPad

- Test your memory with i
ntriguing questions on "Grey's Anatomy" TV show! Great family entertainment and a good brain teaser!
- Galactic Math - 10/1/11
For iPhone, iPod Touch and iPad
- Enjoy a dynamic, arcade game while solving loads and loads of equations! With stunning graphics, dynamic arcade action and five skill levels, this game is suitable for children, teens and adults alike.
--------------------
TO REDEEM PROMOS ON iPhone, iPod Touch or iPad:

1. Go to App Store on your device

2. Go to Featured Tab

3. Scroll all the way to the end

4. Tap on Redeem

5. Enter your Promo Code (make sure text box is free of old codes) and Redeem.

6. Tap Done and you're all set. App will now appear on your display.


--------------------------

Check back with Cool iPhone Apps often for the latest batch of FREE PROMO codes! Remember, Promo Codes are usually valid for 30 days, so Redeem yours now!

Most importantly, please be sure to leave these developers a kind review on the App Store right away. Developers refine and revise their apps based on your helpful comments.